Kenneth N. Rhodes
Chief of Police
Chief Rhodes began his law enforcement career shortly after graduation from Queen Anne's County High School and at the age of 18, joined the Maryland State Police as a Cadet. After graduating from the Maryland State Police Academy and throughout his almost 19 year career, Chief Rhodes received several promotions rising to the rank of Sergeant before retiring in 2008. During his tenure with MSP, he held a variety of positions within the agency, to include Patrol Trooper, Criminal Investigations Section Supervisor, Police Academy Instructor and Tactical Team Leader.
Shortly after his retirement from MSP, Rhodes was offered and accepted the position of Manager of Security Operations for Dover International Speedway, where he remained for 4 years. While at Dover, Rhodes supervised hundreds of staff and oversaw security for the DIS facilities and all the events, such as the NASCAR Races and Firefly Music Festival.
In 2012, Rhodes was hired by the Centreville Police Department, eventually being promoted to Lieutenant. After the retirement of the prior Chief, Rhodes was appointed by the Town Council of Centreville on April 19, 2018 as the department's newest Chief of Police.
Rhodes attended Chesapeake College and the Community College of Baltimore County and is a graduate of the FBI Law Enforcement Executive Development Association Program. He also holds many other certifications in a variety of subjects and is also a Law Enforcement Instructor, as well. He was named Maryland Law Enforcement Instructor of the Year in 2016 and the Centreville Rotary Club named him Queen Anne's County Officer of the Year in 1996.
Rhodes is a life-long Queen Anne's County resident.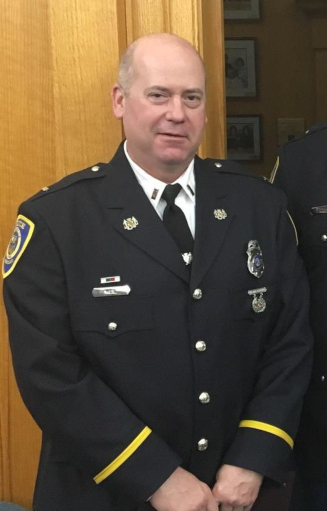 Conrad A. Meil, III
Lieutenant
Lt. Conrad Meil began his career with the Centreville Police Department in 2002 after graduating from the Eastern Shore Criminal Justice Academy in Salisbury, Md. During his tenure with the Centreville Police Department, Lt. Meil has risen through the ranks to his current position. Prior to joining the department, he served in the United States Navy during the Gulf War.
In his current position, Lt. Meil is the Department's Evidence Custodian, Speed Camera Program Manager, and sits on the (C.A.R.E.) Child Abuse Response & Evaluation Board and is a member of the Multi-Disciplinary Team through the Department of Social Services. Additionally, he handles all administrative investigations and oversees all criminal investigations.
Aside from the vast amount of training he received while in the US Navy, Lt. Meil is also a graduate of the FBI Law Enforcement Executive Development School.
Lt. Meil's father was a Maryland State Trooper and his brother currently works for the Queen Anne's County Sheriff's Office. Lt. Meil resides in Glen Burnie with his fiance and daughter.